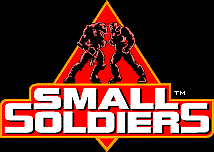 SMALL SOLDIERS action figures
Small Soldiers 6" & 12" action figures, vehicles and accessories.
Buy Small Soldiers toys & Small Soldiers archer action figures, vehicles, and accessories. Our animated Small Soldiers action figures are in great condition and are available at a discounted price. The action figures are available in 6 inch or 12 inch sizes. Choose from all the Small Soldiers characters like Chip Hazard, Archer, Brick Bazooka, Nick Nitro, and Insaniac. We also carry collectible vehicles and tools such as Power Drill Cycle and Buzzsaw Tank. If you can't find what you're looking for on the Small Soldiers action figures page, shoot us a line at orders@gofigureactionfigures.com.