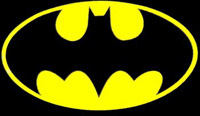 BATMAN action figures
Buy Batman Action Figures & Toys for less
We sell thousands of Batman collectible action figures from every movie and animated TV show. You will find Batman action figures from the Batman & Robin Movie, Batman Begins Movie, Batman Beyond, Batman Forever Movie, Batman Returns Movie, Classic TV Series, Knight Force Ninjas, Dark Knight Collection, EXP (Extreme Power), Legends of Batman, Legends of the Dark Knight, Mask of the Phantasm, Mission Masters, ShadowTek, The Adventures of Batman and Robin, The Animated Series, The Batman, The Brave and the Bold, The Dark Knight Collection, The Dark Knight Movie, The Dark Knight Rises Movie, The New Batman Adventures and Yamato.
If you need assistance finding a specific Batman action figure or Batman accessory, please call us at 440-228-5662 or email us.
Please make your selection from the categories below.