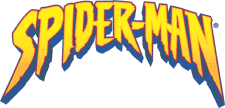 SPIDER-MAN (Web Of Steel) action figures
Shop for Spider-Man Web Of Steel Action Figures & limited edition Spider-Man accessories at Go Figure Action Figures. We have the best collection of Spider-Man 3 Movie action figures at the best price. No action figure collection is complete without Spider-Man & Friends action figures. We carry Spider-Man classics from the movies and the villains of Spider-Man. You will find Spider-Man 2 and Spider-Man 3 movie collectibles that are not available in stores. Our Spider-Man action figures come in 10" and other sizes, as well as animated and in plush material. If you have questions about your Spider-Man purchase, contact us at orders@gofigureactionfigures.com today! Please make your selection from the categories below or to the left.

Spider-Man vs. Hobgoblin (Web Of Steel)
A flurry of exploding jack-o-lanterns and razor-sharp bats herald the arrival of the horrible Hobgoblin on his awesome jet glider! But, before he can begin his latest criminal spree, a figure swoops down from a nearby building on an impossibly thin strand of webbing – the spectacular Spider-Man! Conflict begins in mid-air, with Spider-Man determined to take the Hobgoblin down, using all his incredible spider-powers!
Die cast metal poseable figures.
Includes special collector's stand

Spider-Man vs. Smythe (Web Of Steel)
When the sinister Alistair Smythe sets his sights on destroying the friendly neighborhood Spider-Man, he doesn't mess around! This twisted genius has created an army of Spider-Slayers, robots designed for the sole purpose of squashing Spider-Man. But the web-slinger has an ace up his sleeve – a suit of web armor, capable of withstanding whatever evil Smythe tries to hurl his way!
Die cast metal poseable figures.
Includes special collector's stand!

Spider-Man vs. Venom (Web Of Steel)
Out of the darkness, a hulking black shape lunges at the amazing web-slinger, Spider-Man, catching him completely unaware! The arch-fiend Venom has returned, the so-called "Lethal Protector" who has sworn to save society-at-large from the wall-crawling "menace" of Spider-Man. And with identical powers, plus the ability to avoid Spider-Man's spider-sense, Venom may just accomplish his task!
Die cast metal poseable figures.
Includes special collector's stand!