SPIDER-MAN (Web Force) action figures
Shop for Spider-Man Web Force Action Figures & limited edition Spider-Man accessories at Go Figure Action Figures. We have the best collection of Spider-Man action figures at the best price. No action figure collection is complete without Spider-Man & Friends action figures. We carry Spider-Man Classics from the movie and the villains of Spider-Man. You will find Spider-Man 2 and Spider-Man 3 movie collectibles that are not available in stores. Our Spider-Man action figures come in 10" and other sizes, as well as animated and in plush material. If you have questions about your Spider-Man purchase, contact us at orders@gofigureactionfigures.com today! Please make your selection from the categories below or to the left.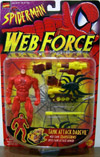 Tank Attack Daredevil (Web Force)
Sightless attorney Matt Murdock is really the swashbuckling man without fear, Tank Attack Daredevil! His remaining senses heightened to an unbelievable level, Tank Attack Daredevil even has a "radar-sense" that effectively allows him to see! Perceiving things in darkness clearer than normal people can see in the daylight, Tank Attack Daredevil is perfectly equipped for battle against the city's underworld. And he'd better be, because they're getting better armed and more organized all the time. Leveling the playing field against the heavily armed crooks, Tank Attack Daredevil suits up in his transforming web tank armor, ready to face any threat in his way! Web tank transforms into tank attack armor.
035112475231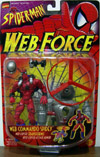 Web Commando Spidey (Web Force)
Facing the ever-growing threats of villains like the Vulture and the Spider-Smash Lizard, Spider-Man has learned to adapt. Preferring to rely on his web-shooters and spider-abilities, Spidey finds he needs something extra when the new-and-improved Vulture hits town. So Spidey slaps on his web commando gear, hops in his transforming web copter, and takes to the skies, certain that this time the Vulture won't leave him hanging on the ground. So the Vulture had better watch out, because even if he's high in the skies, he can't get away from the new Web Commando Spider-Man! 5" scale.
035112475217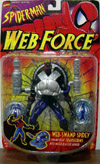 Web-Swamp Spidey (Web Force)
When the Spider-Smash Lizard rears his ugly head, only Spider-Man can stop him. Following the trail of the mega-mutated Spider-Smash Lizard, Spider-Man heads for the swamps of the Everglades. Knowing that there won't be any buildings to swing from, Spidey brings along his specially designed web-swamp seeker armor. Giving Spider-Man all the speed and mobility in the swamp that he has in the city, the swamp armor keeps Spider-Man at his best. And he's going to need to be in top form, because the Spider-Smash Lizard is bigger and badder than ever!
035112475224