SPIDER-MAN (The Spectacular Spider-Man, Techno-Wars) action figures
Shop for The Spectacular Spider-Man Techno-Wars Action Figures & limited edition Spider-Man accessories at Go Figure Action Figures. We have the best collection of Spider-Man action figures at the best price. No action figure collection is complete without Spider-Man & Friends action figures. We carry Spider-Man Classics from the movie and the villains of Spider-Man. You will find Spider-Man 2 and Spider-Man 3 movie collectibles that are not available in stores. Our Spider-Man action figures come in 10" and other sizes, as well as animated and in plush material. If you have questions about your Spider-Man purchase, contact us at orders@gofigureactionfigures.com today! Please make your selection from the categories below or to the left.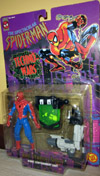 Anti-Symbiote Spidey (The Spectacular Spider-Man, Techno-Wars)
Repeatedly faced with the threat of Venom, Carnage, and their symbiote brethren, Spider-Man sought the aid of the Fantastic Four's Reed Richards to develop specialized anti-symbiote equipment! Employing sonic disruptor weapons and a symbiote containment chamber, Spider-Man has everything he needs to capture a symbiote, allowing the Guardsmen to safely transport it to the Vault for incarceration.
035112472728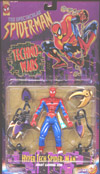 Hyper Tech Spider-Man (The Spectacular Spider-Man, Techno-Wars)
Going up against the strongest creatures on Earth is no small task - that's why Spider-Man has borrowed Iron Man's Hyper Tech armor! Composed of an incredibly lightweight titanium steel alloy, the Hyper Tech armor utilizes high-speed hydraulics that give Spider-Man the extra power he needs, without slowing him down! And Spidey's got to move fast, because when the forces of evil get angry, no armor can stand up to those crushing blows for long!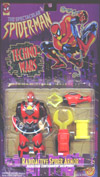 Radioactive Spider Armor Spider-Man (Spectacular, Techno-Wars)
An explosion rocks Dr. Connors' Neogenic lab at Empire State University - and Spider-Man must rush to his aid! To protect him from the high levels of radiation, Spider-Man must don a suit of anti-radiation armor. Developed by Tony Stark, the armor allows Spider-Man to move safely through Connors' lab - and with the special claw attachment hardware, it's just what Spidey needs to help Doc Connors put everything right!