SPIDER-MAN (Stunt System) action figures
Shop for Spider-Man Stunt System Action Figures & limited edition Spider-Man accessories at Go Figure Action Figures. We have the best collection of Spider-Man action figures at the best price. No action figure collection is complete without Spider-Man & Friends action figures. We carry Spider-Man Classics from the movie and the villains of Spider-Man. You will find Spider-Man 2 and Spider-Man 3 movie collectibles that are not available in stores. Our Spider-Man action figures come in 10" and other sizes, as well as animated and in plush material. If you have questions about your Spider-Man purchase, contact us at orders@gofigureactionfigures.com today! Please make your selection from the categories below or to the left.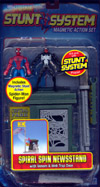 Spiral Spin Newsstand (Stunt System)
Includes 3" Magnetic Stunt Action Spider-Man, Venom & web trap door. Works alone or connects with the interlocking Stunt System playset.
086892723678