SPIDER-MAN (Spider Force) action figures
Shop for Spider-Man Spider Force Action Figures & limited edition Spider-Man accessories at Go Figure Action Figures. We have the best collection of Spider-Man action figures at the best price. No action figure collection is complete without Spider-Man & Friends action figures. We carry Spider-Man Classics from the movie and the villains of Spider-Man. You will find Spider-Man 2 and Spider-Man 3 movie collectibles that are not available in stores. Our Spider-Man action figures come in 10" and other sizes, as well as animated and in plush material. If you have questions about your Spider-Man purchase, contact us at orders@gofigureactionfigures.com today! Please make your selection from the categories below or to the left.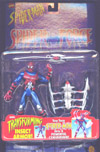 Cybersect Spider-Man (Spider Force)
The same alien technology that gave Spider-Man's enemies their insect battle armor gave Spidey his Techno-suit. Along with his already impressive powers, the Techno-suit helps Spidey leap higher, crawl faster and punch harder than ever before. If that weren't enough, Spidey's armor transforms into a powerful cyber-spider ready to obey his every command. Together, Spidey and his cyber-spider spell trouble for evil-doers.

Tarantula (Spider Force)
Once a captain in the Delvadian army, Luis Alvarez turned to a life of crime and became forever known as The Tarantula! The retractable "stinger blades" built into his boots are dipped in poison powerful enough to knock out any foe. The Tarantula relies on his expert fighting and kickboxing skills to create havoc wherever he goes. Tarantula's body armor transforms into a menacing sidekick, a giant tarantula making this super-villain one of Spidey's most dangerous adversaries.
035112475118