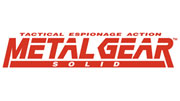 METAL GEAR SOLID action figures
Warning. Genetically enhanced toys have infiltrated. Spy satellite reconnaissance has revealed that McFarlane Toys has immortalized the Tactical Espionage Action Game of 1998 with its own elite brigade. These fully loaded figures uncover the game's stealthy personalities through a deadly arsenal of accessories and detail. Each figure a by-product of military hegemony and cinematic uniformity to its digital counterpart. And each spawned from the proven army of McFarlane Toys.
All 6 figures from series 2 assemble the bonus seventh character METAL GEAR RAY.