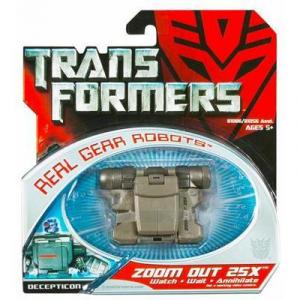 Zoom Out 25X (Movie Real Gear)

Uncover one of the most closely held secrets on Earth, known only to very few humans. The power of the Allspark has been unleashed, and machines all over the world have come alive. Unlock their secrets and join the battle! ZOOM OUT 25X is inhumanly patient. He'll wait for days or weeks in his camera mode without moving or making a sound, just to get the perfect shot of you doing something you shouldn't. Then, using his editing features, he'll alter the video to be as embarrassing as possible. He doesn't do this because it's his mission or anything – he just likes to cause trouble.
Convert this DECEPTICON figure from robot to digital camera mode and back again! Collect this awesome figure and join the TRANSFORMERS battle!
Note: Not a working camera.