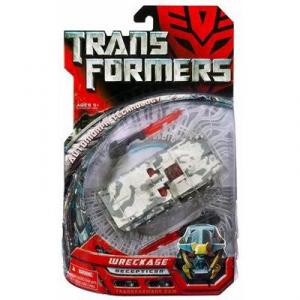 Wreckage (Movie Deluxe)

Just as DECEPTICON BRAWL is the hot-blooded, indiscriminate destroyer among the DECEPTICONS, WRECKAGE is the stone-cold fighter. Though he is as capable as any DECEPTICON of wholesale destruction, he carries twin blades for a reason. That is, he likes to be up close to his target. He lives to hear the shriek of metal on metal as his swords tear through AUTOBOT armor, and the sparking sizzle of shorting electronics as wires and conduits are severed.
Change this advanced-conversion, DECEPTICON figure from robot mode to personnel carrier mode – and back again! Robot mode features intimidating spring-loaded blades, while the personnel carrier mode features a menacing, extending cannon!