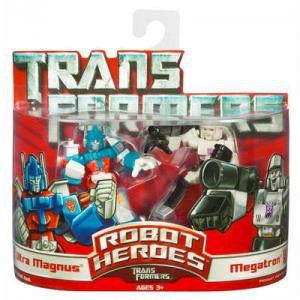 Ultra Magnus & Megatron (Robot Heroes)

Race into action with the galaxy's greatest collection of mighty metal warriors! The most powerful heroes from the planet CYBERTRON are here to battle for the fate of the universe. With the incredible ability to change into every day objects and technology beyond your wildest dreams, these ROBOT HEROES are more than meets the eye!
Two-pack of chunky, stylized characters includes ULTRA MAGNUS and MEGATRON figures.
Note: Product does not convert.