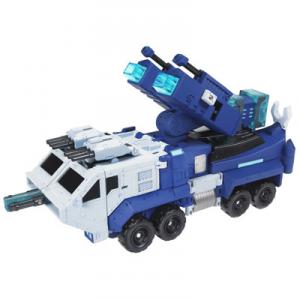 Ultra Magnus (Animated, Leader Class)

Make a smashing entrance into your TRANSFORMERS collection with this ultimate AUTOBOT warrior figure that converts from menacing robot mode to assault carrier vehicle mode and back again! In robot mode, the elite commander character changes expressions as he talks with electronic lights, sounds and speech. Aim the spring-loaded, expanding mass hammer at the enemy, along with flip-up heavy cannons and hidden weapons. Change into vehicle mode for flip-out machine cannons and weapon power-up sounds! Use your imagination and your advanced-conversion skills while staging your own AllSpark adventures with this high-ranking robot character.
Includes 2 "AA" batteries.