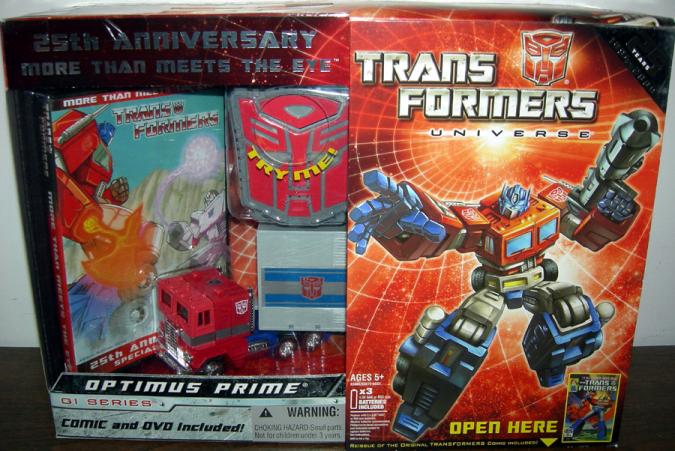 Transformers Universe G1 Series 25th Anniversary Optimus Prime & DVD

Since 1984, the unstoppable metal giants have been seen worldwide in toy aisles and comic shops, on television and most recently on the sliver screen. Celebrate 25 years of robot-converting excitement with this anniversary collectible set that includes an OPTIMUS PRIME figure, AUTOBOT shield, TRANSFORMERS comic book and animated DVD!
Pose the freedom-fighting figure in robot mode and fire missiles at the enemy. Convert the robot's battle station into a trailer in truck mode, where you can also launch a roller at your target! An electronic AUTOBOT shield heats up your homemade adventures with OPTIMUS PRIME speech and conversion sounds. Clip it to your belt or stand it up on a table, desk or shelf! Read the re-issue of the original TRANSFORMERS comic book and play the 25th anniversary MORE THAN MEETS THE EYE DVD (DVD player not included). Featuring the first three episodes of the original animated series, three desktop wallpapers and never before seen MEGATRON and OPTIMUS PRIME character art, this is one cool collector's pack to celebrate the robotic craze that has lasted for a quarter century.
8" long figure comes with comic book and DVD.
Includes 3 "AAA" batteries.
653569356455