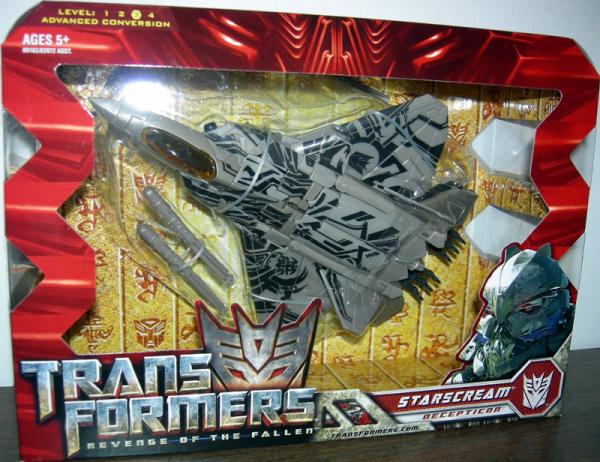 Starscream (Revenge of The Fallen, Voyager Class)

The moment his sensor net registered MEGATRON going offline, STARSCREAM knew the battle was over, and the AllSpark lost. He converted to vehicle mode and boosted for outer space, hoping to buy enough time to rally the DECEPTICON survivors. Returning from CYBERTRON bearing the marks won during his reign over the DECEPTICON army, he is focused on conquest. With a new army behind him, he has the strength to pursue his own goals, and perhaps, when the time is right, bring MEGATRON back.
Prepare to do battle – DECEPTICON style! Fire either of two missiles from this eager enemy's pop-out missile launcher in robot mode. Activate gears with a turn of STARSCREAM figure's head! Or convert to an F-22 Raptor aircraft in vehicle mode and let your imagination soar! Recreate exciting scenes from the movie or create your own!
Figure comes with missile accessories.
Detailed robot-to-vehicle figure features pop-out missile launchers and two firing missiles! Turn head to activate moving gears! Figure comes with missile accessories.
Ages 5 and up. 7" tall.
653569409038