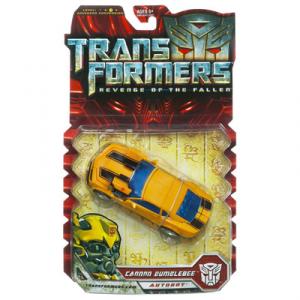 Cannon Bumblebee (Revenge of The Fallen)

After the battle of Mission City, and the discovery of new DECEPTICONS on Earth, BUMBLEBEE decided to upgrade as many of his systems as he could. With the help of AUTOBOT RATCHET, he added some human missile launchers to his arsenal, and modified his vehicle mode to make his weapons accessible. He was caught off-guard too many times by the DECEPTICONS. Now when they come around he'll be ready.
Gear up for battle excitement with this popular AUTOBOT ally! Recreate exciting movie scenes or stage your own living room battles with this trusty sidekick! In vehicle mode, this sleek speedster converts to a Camaro concept cart with pop-out battle blasters to help you take on DECEPTICON forces! Roll out!
$

19.99
$25.99
You Save $6.00
in stock