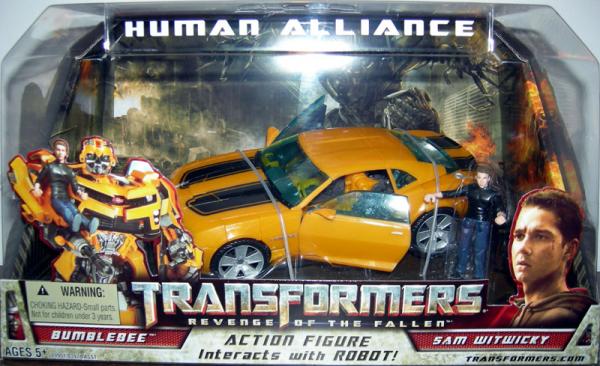 Human Alliance (Bumblebee and Sam Witwicky)

BUMBLEBEE and Sam were best friends almost from the moment they first met face to face. As they learned more about one another, that connection grew deeper and deeper. Now, whether Sam is behind the wheel, or standing side by side with his friend, they work together as a team. Against BUMBLEBEE and his human friend, no DECEPTICON stands a chance.
Gear up for battle excitement with this dynamic duo! Sam Witwicky figure and BUMBLEBEE robot-to-vehicle figure make a perfect pair, even interacting with each other! Convert BUMBLEBEE buddy from robot with flip-out cannon to Camaro concept car in vehicle mode – and you can even fit two human ally figures inside (additional figures sold separately)! Team up with this fearless twosome and take on the DECEPTICON enemies. Recreate exciting movie scenes or create your own! Who will win the battle? You decide!
Please note that Sam may come with either black or white shirt.