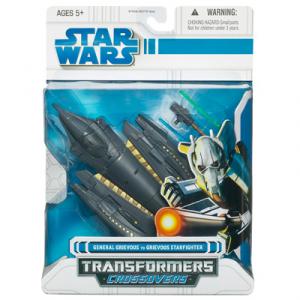 General Grievous to Grievous Starfighter (Transformers Crossovers)

General Grievous has fought many enemies in the Clone Wars, but none has been so difficult to defeat as Obi-Wan Kenobi. Every duel has ended with Grievous on the run and the Jedi still alive. Piloting his starfighter, Grievous launches an all-out attack against Obi-Wan then morphs into mech mode to defeat the Jedi once and for all!
With two galactically great battle modes to choose from, this mode-changing figure is full of surprises – including two launching projectiles! Press the buttons to blast the enemy! Slide the General Grievous pilot figure into the starfighter vehicle and plan your attack. Convert the vehicle into General Grievous mech mode and prepare to do battle right from your living room! The fate of the galaxy is in your hands!
Figure comes with two projectiles.