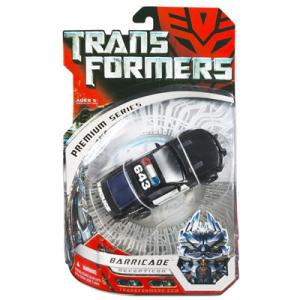 Barricade (Premium Series)

Repaired and rested after the long struggle against the AUTOBOTS, BARRICADE is at a loss for what to do. MEGATRON has been destroyed, and most of the other DECEPTICONS have disappeared. Itís more and more difficult to catch an AUTOBOT alone, and tormenting humans isnít as enjoyable as he thought it would be. For the time being, he fades into the background. He keeps his armor polished and his vehicle mode looking sharp in the hope that MEGATRON will return again, and lead the DECEPTICONS to glory.
Premium series figure has super-detailed deco bring out the detail in this SALVAGE figures robot mode. Launch a DECEPTICON FRENZY figure from itís chest!. In vehicle mode, heís one slick-looking Saleenģ S281 police car. Ready to roll out against the enemy? Change this DECEPTICON warrior from car mode to robot mode for a spring-loaded punch attack!
653569329640