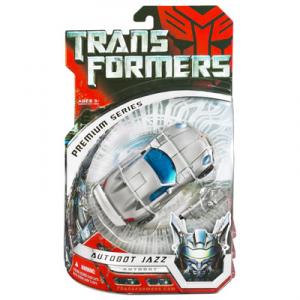 Autobot Jazz (Premium Series)

Just before coming to Earth, AUTOBOT JAZZ was badly damaged in a battle over a barren world in deep space. He doesn't remember a lot of the fight, even before DECEPTICON BRAWL offlined him, but he knows he was hurt really bad. Since that fight, he's worked with IRONHIDE to upgrade his endoskeleton reinforcements, and he's kept his vehicle mode absolutely pristine. Something about getting so badly damaged made him care even more than he used to about looking good.
Silver-and-black colored premium series figure has super-detailed deco bring out the detail in this AUTOBOT JAZZ figure's robot mode. Pose him with the telescoping sword in robot mode. Or turn his shield into a spoiler in Pontiac® Solstice® vehicle mode!