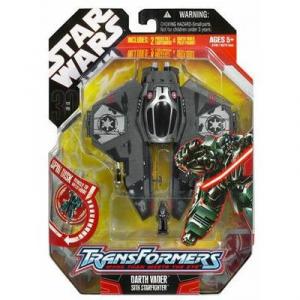 Darth Vader Sith Starfighter (Transformers)

Newly converted to the dark side, Darth Vader is given the task of crushing all resistance to the Emperor across the galaxy. Armed with his new, heavily modified Sith Starfighter and the power of the dark side, he morphs his vehicle into a powerful combat robot. One barrage of missiles from this terrifying war machine and even the fiercest planet will kneel to the Emperor.
Amazing Star Wars figure converts from mech mode to Sith Starfighter vehicle and back again! Figure comes with two launching projectile lightsabers and a Darth Vader figure.