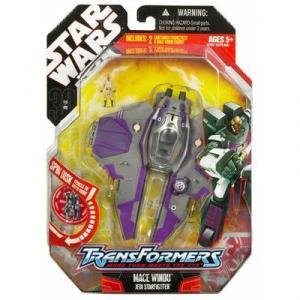 Mace Windu Jedi Starfighter (Transformers)

Mace Windu is a man of peace, but he doesnít hesitate to fire up his starfighter when the galaxy spirals into war. Flying his Jedi starfighter, Windu races to help his fellow Jedi who are under attack in the Jedi Temple. When he arrives, he morphs his starfighter into a robotic Jedi warrior and storms into battle!
Modeled after the one-person fighter vehicle piloted by the notorious Jedi, Mace Windu, this fierce fighting machine is now a mode-changing figure thatís full of surprises! Convert this Jedi starfighter into a Mace Windu figure and back again! Vehicle mode features two projectile launchers and a Mace Windu figure that fits inside.
$

24.99
$32.99
You Save $8.00
in stock