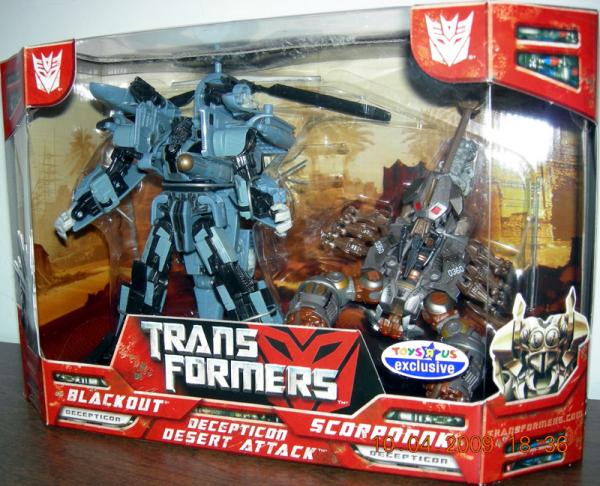 Blackout & Scorponok Decepticon Desert Attack 2-Pack

Roaring in low over the landscape, BLACKOUT pours fire down upon any target that comes within range of his sensors. The only creature for which he displays something other than open contempt is his companion SCORPONOK. The frenzied smaller robot serves its huge master more as a pet than a friend, hounding any enemies that attempt to flee and driving them towards the larger robot's blazing cannons. Together, they are a relentless force of destruction, bent on bathing the landscape in superheated plasma charges until the desert itself is a fused, broken plain of lifeless glass.
Get ready to rule the universe with this awesome two-pack of advanced-conversion DECEPTICON figures. SCORPONOK figure changes from robot to scorpion mode and back again, with drilling pincers in robot mode and a spring-loaded stinger attack in scorpion mode. Change BLACKOUT from menacing robot machine to Sikorsky Pave Low helicopter mode with spinning rotor blades and a SCORPONOK mini figure that can be carried into battle!
•Two-pack of advanced-conversion figures features two DECEPTICON characters from the blockbuster movie!
•Includes BLACKOUT, SCORPONOK and mini SCORPONOK figures.
•Ages 5 and up.