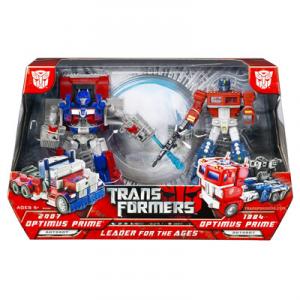 Optimus Prime: Leader for the Ages 2-pack

OPTIMUS PRIME is the greatest leader the AUTOBOTS have ever known. For millions of years, he has led them with courage, honesty, and conviction, never losing sight of his ultimate goal – freedom for all, and peace in the universe. Across generations and in dozens of different forms, he has served as role model and example to young and old. As true a hero as has ever walked the Earth, he is a guiding light to all those who hold truth and justice dear.
It's the AUTOBOTS leader, then and now. Honor this robot hero's retro styling with the 1984 figure, complete with power-punch action in robot mode! The 2007 version has an updated monster look with flame paint details in truck mode and a launching power-hook projectile in robot mode! Bring peace to the universe – or at least your bedroom! – with this awesome two-pack of OPTIMUS PRIME figures.