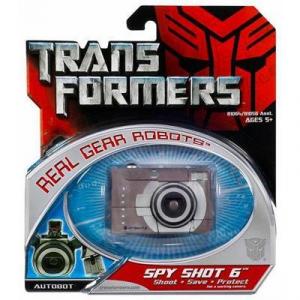 Spy Shot 6 (Movie Real Gear)

Uncover one of the most closely held secrets on Earth, known only to very few humans. The power of the Allspark has been unleashed, and machines all over the world have come alive. Unlock their secrets and join the battle! Your new robotic companion SPEED DIAL 800 is a hyperactive fast-talker, the sort of guy who just canít help but be friendly to everyone. Superior hypersonics allow him to piggyback a signal on local wireless connections in order to transmit sensitive info to his allies. Be sure youíve got a lot of time if you go online at night though; heís sure to text you with a lot to say.
Convert this AUTOBOT figure from robot to phone and back again! Collect this awesome figure and join the TRANSFORMERS battle!
Note: Not a working phone.