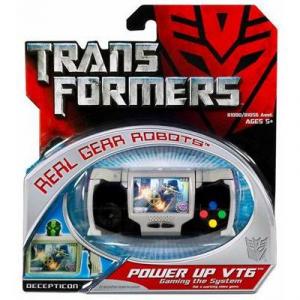 Power Up VT6 (Movie Real Gear)

Uncover one of the most closely held secrets on Earth, known only to very few humans. The power of the Allspark has been unleashed, and machines all over the world have come alive. Unlock their secrets and join the battle! As dangerous as he is slick looking, POWER UP VT6 is a master of manipulation. Able to connect to any data source within range, he specializes in deleting important information. Few DECEPTICONS are as frustrating to have around. Be careful when interacting with him; special receptors in his screen can scramble your brain right through your eyeballs.
Convert this DECEPTICON figure from robot to handheld video game and back again! Collect this awesome figure and join the TRANSFORMERS battle!
Note: Not a working video game.