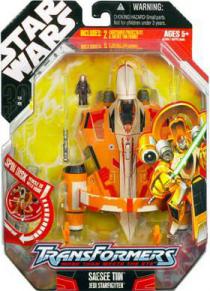 Saesee Tiin Jedi Starfighter (Transformers)

Jedi Master Saesee Tiin flies his customized starfighter to his homeworld, which is under attack by Separatist forces. Tiinís sleek fighter soon blasts the enemy vessels into retreat. Landing on the planet, he converts his fighter into a robotic Jedi warrior to strike down an army of battle droids that have landed there!
Modeled after the powerful combat vessels used by the clone troopers during the Clone Wars, this fierce fighting machine is now a mode-changing figure thatís full of surprises! Convert the Republic Gunship to combat robot and back again! Vehicle mode features two projectile launchers and a clone pilot figure that fits inside.
$

32.99
$34.99
You Save $2.00
in stock