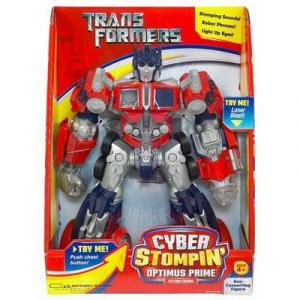 Optimus Prime (Cyber Stompin')

The greatest hero in the universe is here and ready for action. Huge and powerful, OPTIMUS PRIME is ready to battle MEGATRON and the evil DECEPTICONS to the finish. With some of the most incredible battle technology the world has ever seen, nothing can stop OPTIMUS PRIME!
This tough, posable action figure features CYBER STOMPIN' action – every step triggers electronic crashing and crushing sounds! Other cool features include battle sounds and speech, laser blasting lights and sounds, light-up eyes, a targeting scope and a launching robot fist! "It's time to stomp some DECEPTICONS!" with this awesome figure!
Note: Figure does not convert. 11" tall.
653569263036