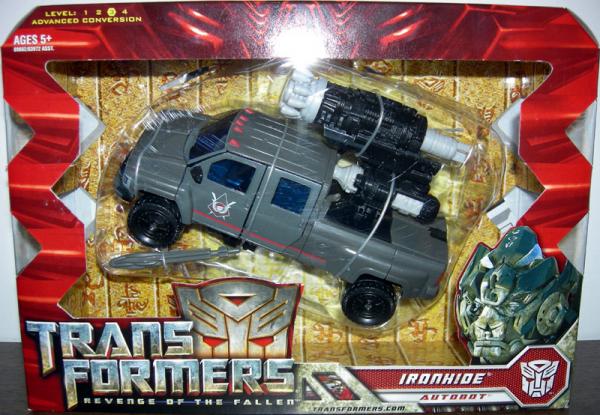 Ironhide (Revenge of The Fallen, Voyager Class)

IRONHIDE has never been happier. It's hard on a warrior to be on the defensive all the time, but that's just what most of the war was – one defensive action after another. With MEGATRON defeated, and the DECEPTICONS on the run everywhere, it's high time the AUTOBOTS went on the offensive. Working alongside the humans to hunt and destroy DECEPTICON hideouts around the world is the most fun he's had in ages.
Prepare to do battle – AUTOBOT style! Unleash a missile attack with this fierce fighting figure in robot mode! Attachable arm cannons give this good guy extra battle power! In Topkick truck mode, this cool cruiser features a cannon that attaches to the truck bed! This battle is on – are you ready to roll out?
Detailed robot-to-vehicle figure features a launching missile and attachable arm cannons in robot mode and an attachable cannon in truck mode! Ages 5 and up. 6" tall.
653569409052