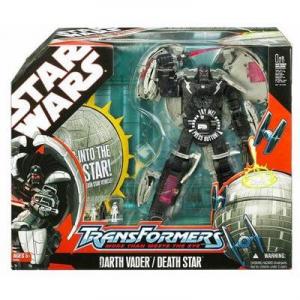 Darth Vader / Death Star (Transformers)

Darth Vader battles the Rebel Alliance fleet with weapons, warriors, and the power of the Force! The Sith Lord strikes with his lightsaber and blaster, then uses secret morphing technology to change into the Death Star battle station and launch a devastating attack on the heroic Rebels!
Known for his menacing tendencies as a principal on the Dark Side of the Force, this Darth Vader figure will hopefully be remembered for converting from robotic mech mode to looming Death Star vehicle mode. Keep enemies at bay with a launching projectile that can be fired in either mode! Electronic lights, a lightsaber and a blaster add to the excitement along with realistic battle sounds. Stage your own skirmishes with the MINI-CON TIE Fighter vehicles, Darth Vader Pilot figure and Stormtrooper figures. Whether your prefer mech mode, vehicle mode or changing between the two again and again, we're sure you'll agree this is one awesome figure for your collection!
11" scale figure comes with MINI-CON TIE fighter vehicles, Darth Vader pilot figure and 3 stormtrooper figures.
653569251569