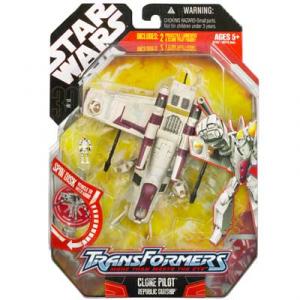 Clone Pilot Republic Gunship (Transformers)

The Republic gunship sweeps across Geonosis, blasting the Separatist forces with a barrage of missiles! The clone pilot lands in the middle of a fierce battle between droids and clone troopers, and converts the gunship into a heavily armed ground fighter that goes straight for droids!
Modeled after the powerful combat vessels used by the clone troopers during the Clone Wars, this fierce fighting machine is now a mode-changing figure thatís full of surprises! Convert the Republic Gunship to combat robot and back again! Vehicle mode features two projectile launchers and a clone pilot figure that fits inside. 6" scale.
653569207061