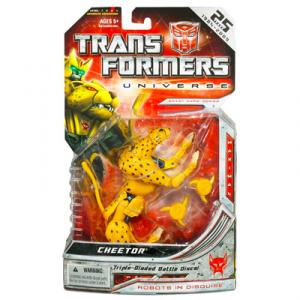 Cheetor (25th Anniversary)

CHEETOR has always been fast. Other robots move at speeds that seem agonizingly slow to him, as if they were trapped in tar. Unfortunately, a lot of the time he moves a lot faster than he thinks, and finds himself in situations that, in retrospect, could have been avoided. Still, his speed has gotten him out of a lot more jams than it's gotten him into, and when speed isn't enough he can always break out his blades.
Convert this advanced conversion figure from robot to beast mode- and back again! Complete with triple-bladed battle discs, a battle club in robot mode and eyes that change color in cheetah beast mode, this is one awesome 5" figure for your collection!
653569354512