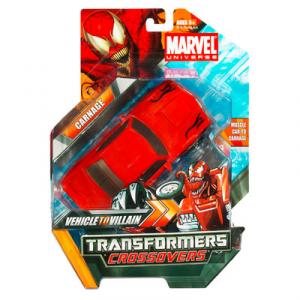 Carnage (Transformers Crossovers)

Based on prototypes stolen from nemesis Mr. Fantastic, Doctor Doom builds a series of mechanized war-suits for the use of the world's worst Super Villains.
The evil of Carnage is matched only by his thirst for power. By melding his alien symbiote with the war-suit given to him by Doctor Doom, he can greatly enhance his already impressive strength and achieve ultimate devastation. He can even disguise himself as a muscle car, making him a formidable foe for the likes of Thor and Iron Man.
One look at this vicious-looking villain and you know he's looking for his next victim! Aim this Carnage figure's firing projectile and unleash supervillain-sized attack! Convert the "fiery" figure from villain to vehicle mode to unleash a mean muscle car vehicle!
653569366737