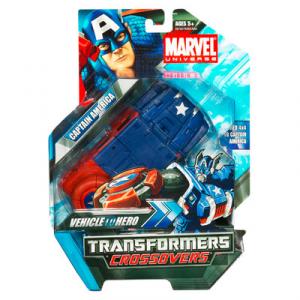 Captain America (Transformers Crossovers)

Sometimes world-class threats require world-class power. Thatís when Captain America steps into his specially built mech suit. Fast, made of the same indestructible Vibranium alloy as his shield, and attuned to his perfect reflexes, only a Super Soldier like Captain America could control the awesome power of this battle suit. Plus, the vehicle mode is rugged and stealthy, giving him the drop on evildoers!
One look at this Captain America heroís pop-out shield and youíll know that heís ready to save the day! Convert the mighty figure from hero to vehicle mode to unleash a fighting 4x4 vehicle that proudly displays the pride of the Red, White and Blue! 6" scale.
$

129.99
$149.99
You Save $20.00
in stock
653569366720