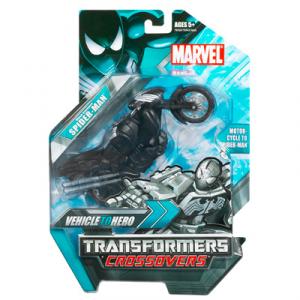 Black Costume Spider-Man (Transformers Crossovers)

Capable of phenomenal acceleration, and maneuverable enough to weave through traffic as easily as Spider-Man himself dodges bullets, his motorcycle mode is the ultimate extension of his style. In mech mode, it duplicates his powers almost perfectly, with powerful electromagnets that allow wall-crawling, and missile launchers that fire explosive blasts of webbing strong enough to entangle even the most powerful machine opponent.
One look at this Spider-Man heroís web missile launcher and youíll know that the wall-crawling wonder is ready to spring into action! Convert the superhero figure from hero to vehicle mode to unleash a sleek, black super cycle thatís ready to flatten the competition! 6" scale.
WARNING: CHOKING HAZARD. Small Parts. Not for children under 3 years.
653569324638