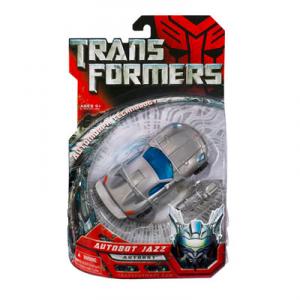 Autobot Jazz (Movie Deluxe)

If it's worth doing it's worth doing with style, thinks AUTOBOT JAZZ. The coolest of the AUTOBOTS, he rolls into battle against the DECEPTICONS with slick moves and a banging sound system. There's no limit to his courage, and nothing he won't do in defense of Earth and the AllSpark. Drawing his blade, he prepares to bring the fight up close and personal with MEGATRON and his evil metal soldiers.
Convert this AUTOBOT figure from menacing robot mode to Pontiac Solstice vehicle mode and back again! It features a telescoping sword and a spoiler that becomes a shield in robot mode! This is one awesome figure for your collection! 6" tall.
653569111115