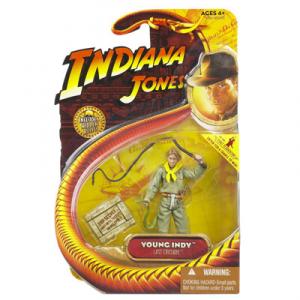 Young Indy

On a desert excursion, Young Indy sneaks away from his boy scout troop, discovering a band of treasure hunters who have unearthed a valuable artifact: the Cross of Coronado. Convinced that the cross belongs in a museum, not in the hands of looters, Indy steals the artifact. The treasure hunters pursue him on a dangerous chase through a circus train, in which Indy takes his first crack at brandishing a whip.
This detailed Boy Scout figure comes prepared! Armed with his trusty whip and a snake that the grown Indy character would surely despise, this younger version of the whip-wielding adventurer comes dressed in his Boy Scout uniform, ready for action! With the "valuable" Cross of Coronado artifact secured to his belt, this fun figure can help you recreate some of the most exciting scenes from the Indiana Jones series. Or use your imagination and stage new scenes of your own as you search to discover the hidden relic!
Figure comes with whip, snake, artifact and hidden relic accessories.