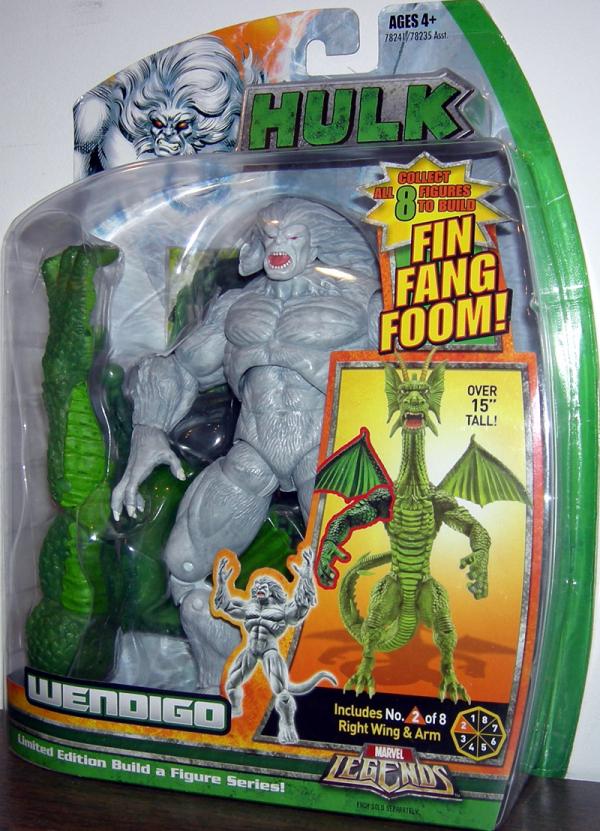 Wendigo (Marvel Legends Fin Fang Foom series)

Ancient legends tell of an evil that fall upon only the most cursed of men. The native people of North America speak in whispers, late at night, about the terrible spirit of the Wendigo, a ravenous creature who lives only to kill, and to feed. The strength of the creature is the strength of demons, and its endurance is that of a spirit, for in reality it is demon and spirit both. Those unlucky enough to be afflicted with the curse of the Wendigo never know rest, and never know satisfaction, for they are doomed to hunt and to feed without cessation until a strength greater than theirs can lay them low.
A beast-like creature with a look of intense rage, this articulated action figure is making his way right into your collection! With his claw-like hands and long tail, the detailed figure is one of eight in the Fin Fang Foom Series! Collect all eight figures (each sold separately) to build your own, fifteen-inch tall Fin Fang Foom figure! Wendigo figure comes with beast figure's right wing and arm! 7" scale.
653569291411