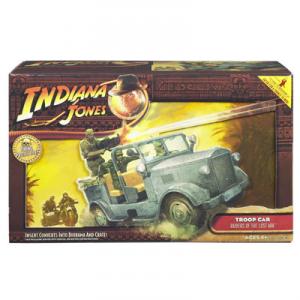 Troop Car

As part of a German-army convoy heading out of Egypt, a staff car of armed soldiers guards the cargo truck that harbors the stolen Ark. When Indy hijacks the truck and the Ark within, the staff car trails him closely, menacing him with heavy fire. Indy retaliates by ramming the staff car off of the road, careening the soldiers off of a cliff and into a deep ravine.
Take Indiana Jones (figures sold separately) on a wild ride that mimics the thrilling movie scene! Amazing action vehicle features a machine gun that launches a projectile. "Steer" the vehicle through the included barricade and it breaks apart! Fit up to five figures (each sold separately) inside, and be sure to save the packaging insert. It converts into a diorama, plus a crate for use with your vehicle!
1/18th Scale vehicle comes with machine gun, projectile and barricade.
653569316985