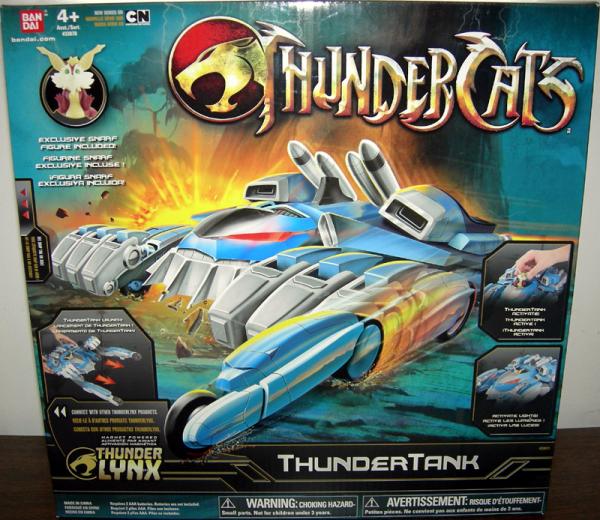 ThunderTank

Thunder, Thunder, ThunderCats Hooo! Roll into battle with the 2011 ThunderCats ThunderTank from the all new "ThunderCats" animated adventure series from Warner Bros. Animation! The ThunderTank comes with a 4" scaled Snarf figure, designed to activate the magnetic "ThunderCats, Hooo!" sound effects.
The ThunderTank includes a 4" scaled exclusive figure of Snarf with embedded magnet called ThunderLynx, which will be used to activate a unique figure.
To activate lights & "ThunderCats, Hooo!" phrase, place Snarf or any 4" figure inside the cockpit.
Press the middle button on the ThunderTank to activate Lion-O's voice that says "Thundertank Fire!".
Combine the ThunderTank with Lion-O and Tygra's ThunderRacers for additional play.
To initiate ThunderRacers – push buttons on back of ThunderTank to launch the two ThunderRacers. It will also initiate Lion-O's voice that says "ThunderTank Launch!"
045557330712