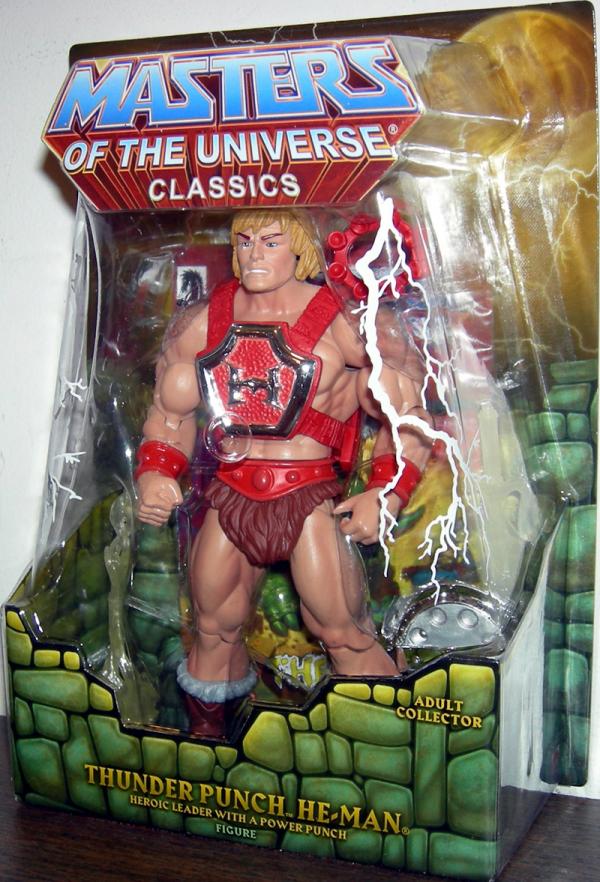 Thunder Punch He-Man (Classics)

Might makes right, and it's lights out for anyone who battles this beefy bruiser! Thunder Punch He-Man is back to fight the good fight, and he kicks it up a notch by calling on the Powers of Grayskull to strengthen his weapons, giving him even more bang for the buck!
This variant of He-Man is a fully articulated, highly detailed 6" scale figure and comes with:
Removable chest armor
Battle sword
Battle shield
Snap-on punch effect
Slug "cap" accessory
Long-awaited 30th anniversary mini comic! (#1 in a series of 3)
Thunder Punch He-Man Bio
Real Name: Adam of the House of Randor
When Skeletor banished Randor to Despondos, he used Faker to convince the royal court that He-Man was not only a Gar but also responsible for the King's "death". This ruse turned the people of Eternia against He-Man and he and the Masters soon became renegades in their own land. Driven to the underground City of Tundaria, the Masters reformed as an elite attack squad. They returned to the surface, and found not only Skeletor ruling Eternia, but King Hssss and a newly returned Hordak also challenging for control. To enhance his strength for these new battles ahead, He-Man used the Powers of Grayskull to energize his weapons, giving them a new Thunder Punch to combat evil! 6" scale.
746775086466