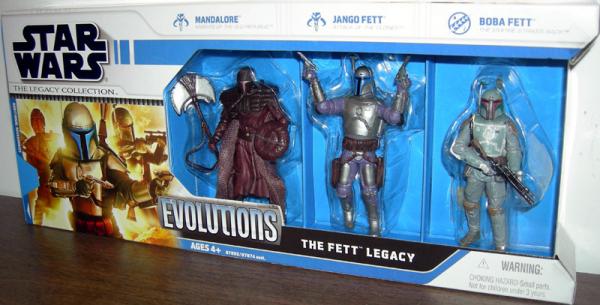 The Fett Legacy (The Legacy Collection)

The Mandalorians are proud people whose lives are based on war. For thousands of years, these skilled fighters have crisscrossed the galaxy on crusades of conquest. They are feared and respected for their unparalleled battle skills and have left a blazing mark upon history. Mandalore the Indomitable is a legendary leader from long ago; Jango Fett "fathers" the clone trooper army; and his "son" Boba Fett uses his Mandalorian skills to become the greatest bounty hunter in the galaxy.
Set of three collectible action figures based on characters from the Star Wars saga includes Mandalore from Knights of the Old Republic™ video game, Jango Fett from Attack of the Clones™ film and Boba Fett from the film The Empire Strike Back. Detailed figures each come with a weapon accessory. 3.75" scale.
WARNING: CHOKING HAZARD. Small Parts. Not for children under 3 years.
653569339267