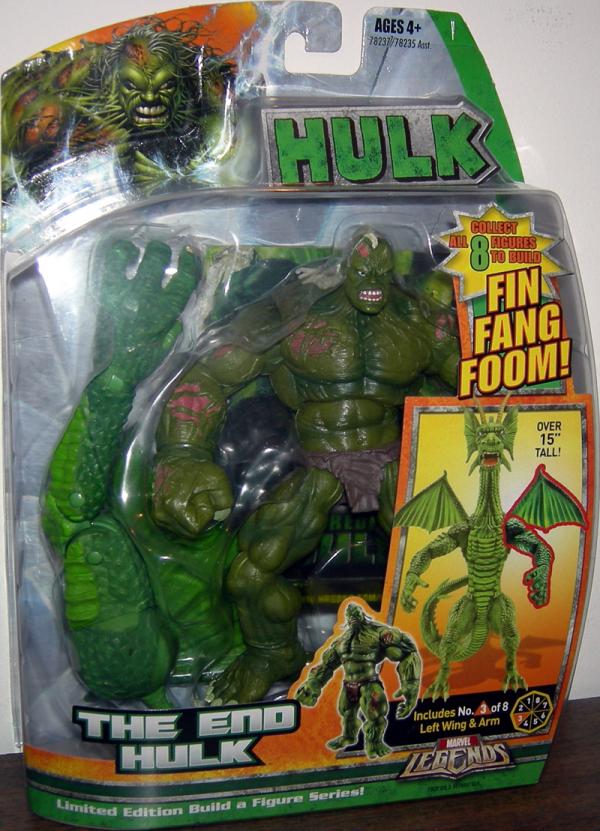 The End Hulk (Marvel Legends Fin Fang Foom series)

Last survivor of a wasted world, the Hulk wanders. He is plagued by memories, and by the constant presence of puny Banner, locked within. His only companions on an Earth destroyed by human arrogance are the mutant cockroaches that feed on his indestructible body. As he rages across the face of his empty world, he can feel the aged Banner inside, growing weaker and weaker, but the Hulk isn't ready to give up. Even as Banner's strength fails and the man within passes on, the Hulk persists, for with Banner gone he is finally, truly alone.
Dressed in his ripped pants, with muscles bulging and "flesh" torn, this articulated action figure is making his way right into your collection! Armed with only an intense look of rage and snarled teeth, this detailed figure is one of eight in the Fin Fang Foom Series! Collect all eight figures (each sold separately) to build your own, 15" tall Fin Fang Foom figure! 7" tall The End Hulk figure comes with beast figure's left wing and arm!
653569291381