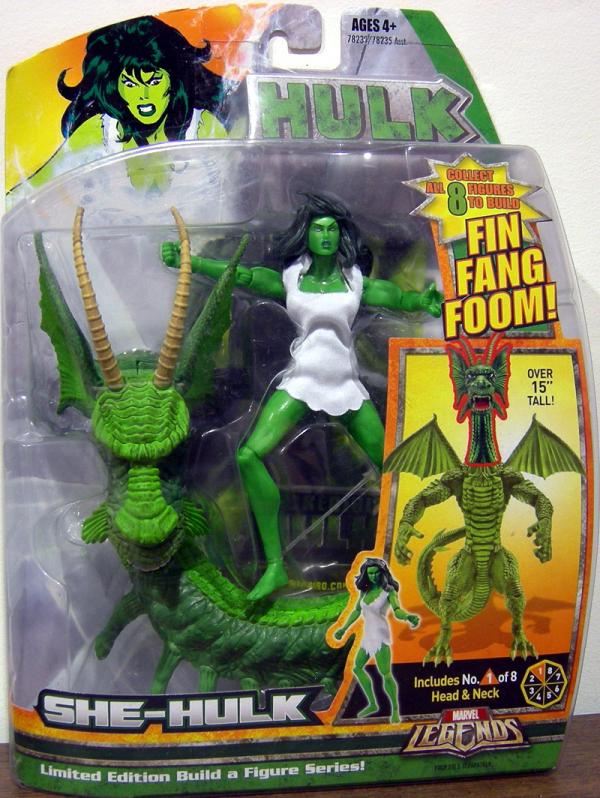 She-Hulk (Marvel Legends Fin Fang Foom series)

Even before she first turned into the savage She-Hulk, Jennifer Walters was saved at least twice by the superhuman status of her cousin Bruce. After Bruce was forced to donate his own blood to save her life, she manifested the ability to mutate into the raging female answer to the Green Goliath himself. However, without the mental baggage borne by her cousin, Jen quickly gained control of her super-human alter-ego, and now Jennifer Walters and the She-Hulk are one and the same. Just recently, the disappearance of the Hulk has left Jen in the unfortunate position of trying to fill her cousin's sizable shoes, and she's faced threats as great as the Abomination and Wendigo.
Clothed in a torn dress that shows off her bulging muscles, this articulated action figure is making her way right into your collection! Her wildly coiffed green hair accentuating her bright green skin, the detailed figure is one of eight in the Fin Fang Foom Series! Collect all eight figures (each sold separately) to build your own, fifteen-inch tall Fin Fang Foom figure! She-Hulk figure comes with beast figure's head and neck! 6" scale.
653569291404