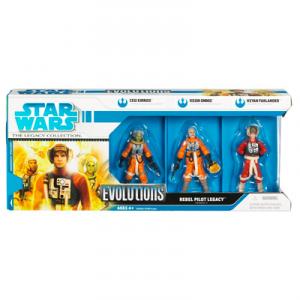 Rebel Pilot Legacy (The Legacy Collection)

The legacy of Rebel pilots is one of uncompromising independence and gritty determination. These are the pilots who crushed the Empire and became the architects of the elite squadrons to come. Dorovio Bold flies an X-wing at the Battle of Yavin, going cannon-to-cannon against Imperial fighters. During the Battle of Hoth, Wes Janson toppled an AT-AT walker with a skillfully unorthodox maneuver. Ten Numb helped achieve victory at the Battle of Endor flying a weapons-packed B-wing. From hotshots to heroes, Alliance pilots built a legacy that has given birth to countless tales of glory throughout the galaxy.
Set of three collectible action figures based on Rebel pilot characters from the Star Wars films includes Cesi "Doc" Eirriss, "Keyan "Lucky" Farlander, and Desin Ommis figures. Each are 3.75" tall.
WARNING: CHOKING HAZARD. Small Parts. Not for children under 3 years.
653569315377