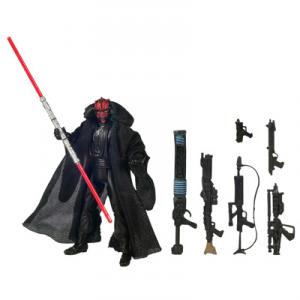 Darth Maul (The Legacy Collection)

Apprentice to the Sith Lord Darth Sidiuos, Darth Maul has undergone years of demanding and brutal training to become an incredible warrior for the Sith. After expertly wielding his lightsaber to prove his skill, he bows respectfully before his Master.
Team up with the dark side and head into a galactic battle! Based on the character from the Star Wars film saga, this articulated action figure has detailed styling and comes with a double-edged lightsaber and additional battle gear! Use this detailed Darth Maul figure to recreate some of your favorite Star Wars movie moments, or create new adventures of your own!
653569359821