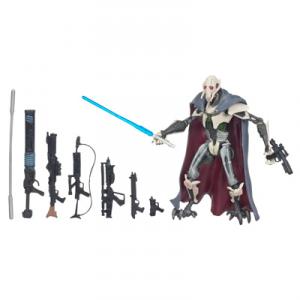 General Grievous (The Legacy Collection, SL No. 7)

General Grievous attempts to escape Coruscant aboard his flagship after kidnapping Chancellor Palpatine. In an attempt to stop him, Anakin and Obi-Wan crash-land aboard the ship but are captured by Grievous' forces. The two Jedi fight their way out of this mess, and Grievous escapes, fleeing to the Utapau system.
Prepare to head into an out-of-this-world adventure when you team up with this detailed General Grievous figure. Armed with his weapons and clone gear, this skeletal and sinister-looking bad guy is ready to take over the galaxy – or at least your neighborhood!
Figure comes with clone gear and weapons.