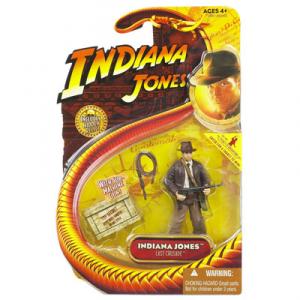 Indiana Jones (The Last Crusade)

At Castle Brunwald, a German-army intelligence base, Indiana Jones crashes through a window to rescue his father, Henry Jones. When three German soldiers discover Indy's presence, they threaten the Joneses with a machine gun, demanding the missing Grail diary. Despite being outnumbered, Indy overpowers the officer, using the officer's own machine gun to eliminate him and his two men.
Set out in search of adventure when you team up with this detailed figure! Armed with his machine gun – and a hint of five o'clock shadow, this hapless hero is ready to take on even the most threatening enemies! Donning his signature fedora hat and worn "leather" jacket, this fun figure can help you recreate some of the most exciting scenes from the Indiana Jones series. Or use your imagination and stage new scenes of your own!
Figure comes with machine gun and hidden relic accessories.