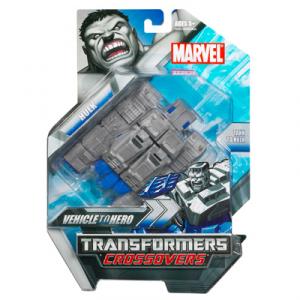 Grey Hulk (Transformers Crossovers)

This mech suit was built specifically to match the power and rage of the Hulk. Its armor is indestructible, like the shield of Captain America™. Its hydraulic joint flexors absorb the Hulk's energy, so that the battle suit becomes stronger as the Hulk gets angrier. In vehicle mode, a powerful sonic cannon knocks other mechs to the ground, and scrambles their audio sensors.
One blast of this Hulk hero's power-packed punch and you'll know that the mean, gray machine is ready to rumble! Convert the superhero figure from hero to vehicle mode to unleash a tough-looking tank that's ready to flatten the competition!
WARNING: CHOKING HAZARD. Small Parts. Not for children under 3 years.