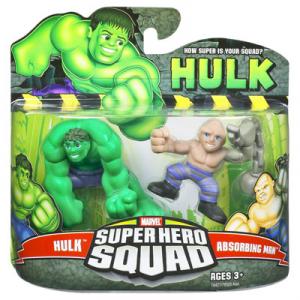 Hulk & Absorbing Man (Super Hero Squad)

The Incredible Hulk teams up with the mightiest Marvel Super Heroes to battle the villains and save the day! Build your team and join in the battle with the Marvel Super Hero Squad!
Get ready for some hero-sized fun with these cool characters! They may be small in stature, but they're big on adventure – so create some of your own with these funky figures!
Two-pack includes Hulk and Absorbing Man figures.
653569318972