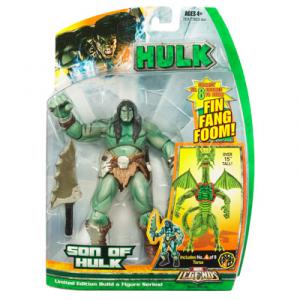 Son of Hulk (Marvel Legends Fin Fang Foom series)

Only son of the Hulk and Sakaarian Shadow Warrior, Caiera the Oldstrong, the son of Hulk was abandoned and left for dead by his father after his mother was killed while he was still in the womb. Even as a mass of undifferentiated cells invisible to the naked eye, the nearly unlimited power of his parents manifested, keeping him alive, sustaining him, letting him grow into the boy that thrived among the shattered remains of the world of Sakaar. Influenced by the mingling of his father's gamma power with the ancient Old Power of his mother, he grew rapidly into the young man that emerged from the wilds to battle the clashing tribes of survivors, and learn about the legacy left by his legendary parents.
A mighty warrior with his long hair and green "skin" just like his father, this articulated action figure is making his way right into your collection! His stern expression, clenched fists and determined stance let you know that this guy is ready for a fight! The detailed figure is one of eight in the Fin Fang Foom Series! Collect all eight figures (each sold separately) to build your own, fifteen-inch tall Fin Fang Foom figure! Son of Hulk figure comes with beast figure's torso!
653569291442